NOTE - just to bring this Auction in line with all the others, the Auction will now end at 9pm on Monday the 24th of January, 2011. Not long now.....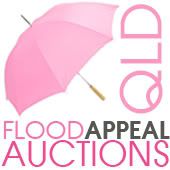 What a week of devastation in this country. Living so far from the flood damaged region does make it hard to help in a hands on way (seeing all those local Brisbane residents on the news pitching in with the clean up brought a tear to my eye tonight). But the crafting community are doing what we do best - Making Stuff!!!
Toni from
Make It Perfect
is coordinating a crafty fundraising venture.
My contribution is a dress that I have made which is up for Auction on my blog.
Details are as follows.....
The dress was made by me - using the Modkid Kyoko pattern. Fabric is the Hunky Dory range by Moda Fabrics.
It is a size 4, but really, I would say 3-5 year old could wear it. The dress is loose in style with the obi which ties around the waist to make it 'adjustable'.
Dress is finished inside with French Seams.
Since I don't have a 4 year old to model, I have shown the dress on both the 2 year old and the 5.5 year old, so you can see sizing.
5.5 year old model (hehe)
2 year old model - Note, the dress is actually above her ankles (just a bad angle for the photo)
The Auction will run as follows:
1. Bids will start at $20 (Australian)
2. To bid, leave a comment on this blog post stating your bid amount - higher than the previous bid.
3. Bids shall be placed in whole dollar increments
4. The Auction will close on Monday the 24th of January at 9pm - the highest bidder at this time will 'win' the dress
5. Please ensure that you leave your email address with your bid so that you can be contacted if you 'win'
6. All proceeds from the sale of this dress will go to the
Premier's Disaster Relief Appeal
. The winner will pay the money directly to this fund, and forward me a copy of the receipt of payment by email. Once proof of payment has been received, I will send the dress.
7. I will cover the cost postage of the dress and the dress will be sent once
And if you aren't interested in this dress, there are plenty more amazing items up for Auction..... just follow the link above to Toni's blog for a full list of participants.